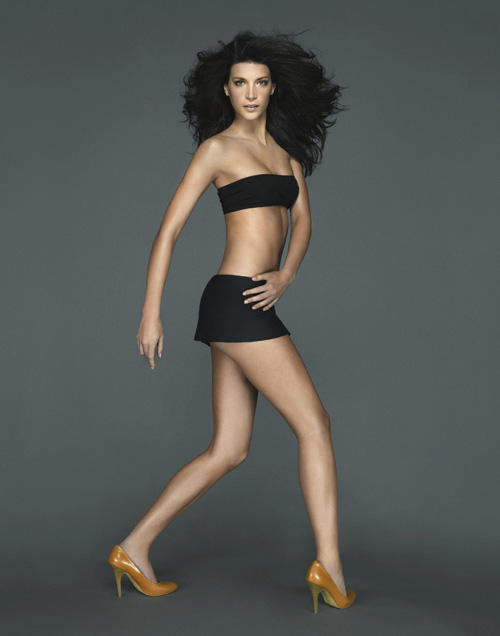 Someone was thinking she was a little too good last week to possibly go all the way down this week.  Sorry Clarke.  Well, I'm not really sorry because I never liked her anyway.
But did you see poor bisexual Elina put her hands to her mouth when Tyra pulled out Jocelyn's photo and not Clarke's?  And Elina rushed over to hug Clarke?  The show hasn't been featuring it - but early on, Elina confessed that she had a girl crush on Clarke and I believe there was a girl "truth or dare" kiss in the hot tub.  She kissed a girl and she liked it!  
Actually - I was thinking it was going to be Marjorie who got the ax.  Early in the show they caught a rare moment of -gasp - confidence and she said she wasn't going anywhere - or something along those lines.  That's usually the kiss of death on this show.  But Marjorie soon became her own super-anxiety self and trashed her every move, even saying, "I failed."  
I'm with Samantha on this one - Marjorie is driving me crazy.  I can't stand it for an hour - can you imagine living in that house with her?  My 20 year old self would probably have tried to be supportive for a day or two - then I would have figured out that Marjorie's self-esteem needed some heavy duty lifting 24/7 and would have been done with it.
Plus - how frustrating is it to hear her whine and whine and then have all the photos turn out pretty darn good?  
I noticed last night that we are getting to the point in the show where some of the girls are really started to wither and fade.  The constant criticism from the judges has got them questioning every move they make and there's also a real inconsistency with the info they get.  Case in point - Mr. Jay loved McKey's performance at the "L.A. Disaster" photo shoot.  She got 50 extra frames b/c she won Paulina's ugly clothes challenge, but Mr. Jay said she didn't need it.  From the film, it looked like she was doing some pretty interesting things.  So her confidence is up, right?  She thinks she did well.  At panel, the judges were pretty harsh with her photo.  It was OK, but they didn't think she rocked it.  So now she's probably a little confused.
Another case in point:  Mr. Jay reminded the girls that they have to be the disaster - the tidal wave or the earthquake - but they are still featuring a garment that they have to show off.  Who wins this week?  Samantha and her tidal wave that covers up 90% of her dress.  All you could tell for sure was that it was short and yellow.
But I have to agree with the judges - Samantha's shot was really good.
OK - let's pick the final four.  Right now.
Elina - I think she's either going to crack next week or go all the way.  I'm betting on a break through.
Samantha - she has a "can do" attitude and I think she is improving.
Lauren Brie - she has great weeks and good weeks, but so far no bad weeks.  She will fly under the radar until the final 4.  She's this season's Chantall.
The last one is a toughie.  The judges clearly like Jocelyn, even though she's been fading fast.  Sheena is a wild card - but she has toned down the hooch.  Annaleigh - I'm going with too bland to be noticed.  Marjorie - I just want to smack her.  McKey - she was the one I couldn't remember existed.
Who do you think?